SENTRY telemetry solution
SENTRY is a dedicated portfolio of Industry 4.0 enabled sensors powered using batteries. Units are designed for harsh industrial environments where dust or humidity pose a risk to traditional telemetry installations.
Example use: Telemetry unit for measuring gas pressure and temperature in natural gas pipes.
Every unit consists of a sensor part and telemetry part. Telemetry unit contains a user replaceable motherboard, battery module and telemetry radio, which reads sensor information in pre-configured periods and uses radio uplink to send measured information to a SCADA or other industrial backend.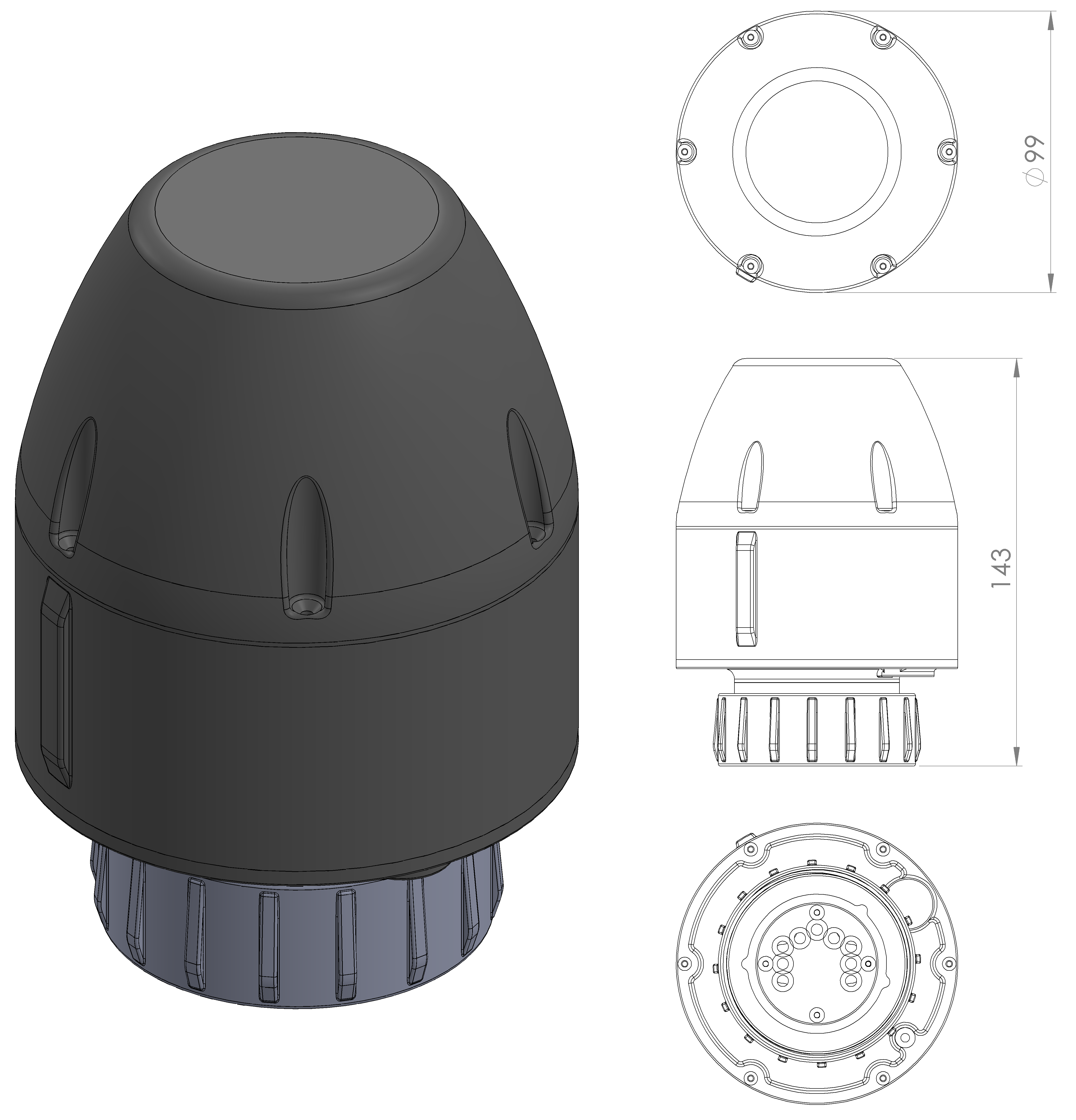 Telemetry part is treated as interchangeable unit, hence while one telemetry unit is being serviced any other telemetry unit can be used in its place and the same configuration will be used for uplink configuration. Configuration of the complete unit is stored in the sensor part. See below for selection of sensor compatible with SENTRY platform.
Configuration of the device is done using Bluetooth LE interface – see section "Configuration" for more details.
Depending on the configuration, the battery pack lasts for about 400.000 uplink messages and up t0 25.000.000 measurements (See section "Battery life-cycle"). The whole telemetry part, including the empty battery, is replaceable without the need to touch the sensor part and without use of any tools.
Sensor module options
Antenna for the telemetry unit is embedded inside the plastic enclosure of the telemetry unit; optionally an external antenna connector can be installed. High-efficient PIFA antennas are used in all of our products.
Battery life-cycle
Configuration
Configuration of the unit is done using dedicated Android application 'N5 Console' using Bluetooth LE mobile phone or tablet interface (available on all modern devices on the market).
The latest version of the application is available on http://www.moirelabs.com/dl/
More complex tasks and logic of the device are done on firmware level by turnkey firmware development for specific customers project. This is a flexible process giving customers the ability to specify details on how the device should behave under specific conditions.
Compliance
Compliant with RED - EU directive 2014/53/EU
Compliant with ATEX Zone 2 use under "ic"
Datasheet